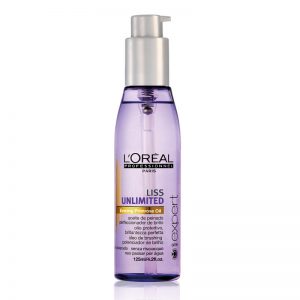 It contains pro-keratin complex and evening primrose oil, which combined have beneficial impact on the strengthening of hair structure. Serum L'Oreal Liss Unlimited Evening Primrose Oil is a multitasking oil for smoother of unruly hair, difficult to style. How does it work? Is it worth to invest in it?
Unruly hair is a nightmare of many women. It frizzes after washing, suffer from fly-away hair when you try to comb it, curl and clump due to humidity. In other words, it does not look very good. All tries in order to tame it are for nothing. Without right cosmetic for hair care and stylisation, it can be only worse. Here, essential is express help, offered by, for example evening primrose oil. Where to find it?
L'Oreal Professionnel Paris, Liss Unlimited Evening Primrose Oil
Best help for unruly hair is oil that makes stylisation easier. Evening primrose oil in Liss Unlimited Collection by L'Oreal will provide hair with immediate smoother. It will be great for matte, frizzing hair that is difficult in stylisation, like straightening. What is in L'Oreal Liss Unlimited Evening Primrose Oil that works for your hair benefit?
Evening primrose oil – strengthens, eliminates irritations and allergy, inhibits hair loss, stimulates new hair growth, moisturises and nourishes.
Kukui nut oil – nourishes skin and hair, calms irritations, regenerates and increases resilience to external factors.
Pro-keratin complex – strengthens hair structure, smoothers, provides fresh gloss and discipline unruly strands.
Sadly, evening primrose oil and additional nourishing ingredients are not as effective as they could be. Mainly due to fact that L'Oreal Liss Unlimited Serum consists also of few harmful alcohols with extremely drying and irritation causing properties. This product would present itself much better if not for these ingredients.
Its huge quality is convenient application. Evening Primrose Oil L'Oreal Liss Unlimited can be applied on wet hair, right after hair wash. This will provide it with regeneration and condition improvement. Serum has dual action. It can be used during the day, on dry hair, or for easier combing and hair style improvement.